About our client

Air Canada is among the 15 largest commercial airlines in the world, offering direct passenger service to more than 175 destinations on five continents. The airline is the largest provider of scheduled passenger services in the Canadian market, the Canada-U.S. trans-border market and in the international market to and from Canada. Air Canada is a founding member of Star Alliance™, providing the world's most comprehensive air transportation network. Its mission is "To Connect Canada and the World".

Air Canada's cargo services division provides direct cargo services to over 150 Canadian and international destinations and has sales representation in over 50 countries. Air Canada Cargo is Canada's largest provider of air cargo services, which are provided on domestic and U.S. trans-border flights and on international cargo services on routes between Canada and major markets in Europe, Asia, South America and Australia.
The challenge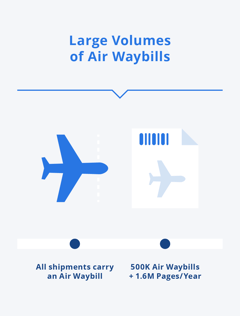 As part of ongoing efforts to continually improve business processes and reduce costs, Air Canada was in need of an innovative document management solution to facilitate the management of large volumes of paper-based Air Waybills and supporting documents associated to shipments handled by Air Canada Cargo. Those volumes include approx. 500,000 Air Waybills and 1.6 million pages annually.

Each shipment that is handled by Air Canada Cargo carries pertinent shipment documentation as it passes through various cities and locations until it arrives at its final destination. The most important of these documents is called the Air Waybill, which is the agreement between the shipper and the carrier, outlining the conditions of contract for carriage and which is often required for border control in cross-border transport. Having 7 x 24 x 365 days of secure and fast access to the documentation is crucial to Air Canada Cargo staff, so choosing a trusted partner was a key element for Air Canada.
The solution
Octacom was chosen as the preferred vendor after an extensive evaluation process. Octacom was recognized as a vendor focused on technology and innovation while being flexible and adaptable to Air Canada's desired requirements. Octacom proposed, developed and implemented a complete turnkey document management solution, leveraging its Odiss™ Document Management Software.
Document Imaging Services:
Air Canada Cargo now sends over 30,000+ pages of Air Waybills and associated documentation from its North American and European locations each week to Octacom's secure Richmond Hill document imaging facility. Part of Octacom's customized solution includes courier, exceptions handling procedures, temporary box warehousing, production centre reporting, and the return of cargo material to originating stations.
Odiss™ Document Management Software
Air Canada Cargo accesses its historical Air Waybills on Odiss™, which has the following advantages:
Simple migration of data from legacy document management software;
Cloud-based and accessible by users globally;
Searchable based on reference number, station, document type and scan date;
Full audit trail of Air Waybills viewed, annotated, printed and distributed through the Odiss™ application.
The process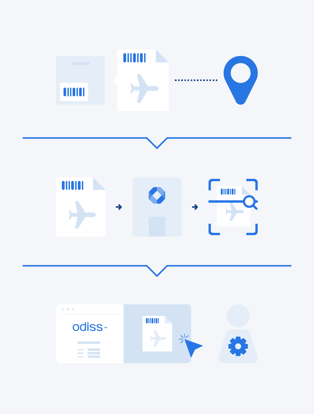 Source: The Air Waybill, representing the contract of carriage, is developed at source and documentation travels via air travel with the package from source to the delivery location.
Delivery location: Once the flight lands safely at its destination, Air Canada Cargo retains the Waybill and associated documentation for compliance and client service purposes. On a daily basis, Air Canada Cargo couriers the Waybills to Octacom to be imaged and indexed.
Document management: Within Odiss™, all tickets are searchable and accessible by Air Canada agents globally. Odiss™ allows Air Canada to rapidly access Waybills at the click of a button while providing a cost-effective solution for the legal requirement to retain 7 years of historical records.
Air Canada has seen tremendous value in Octacom's Document Imaging Services and their Odiss™ Document Management Software. Staff now has a secure and timely web-based access to documents within shorter time frames and customer response times have been reduced.
The improved workflow processes have enhanced the decision-making process and reduced wasted labour hours searching for historical Waybills. Air Canada has reaped the benefits of Octacom's significant investment in the processing technology needed to provide high-quality images and index data for Air Canada's worldwide Cargo offices who process a magnitude of 1.6 million pages annually, all while committing to the safety, privacy and security for all Air Canada's Cargo documents.
---
For more information about this case study, waybill management and how a similar approach may be beneficial for your company, please contact us.

Click here to download this case study.