About our client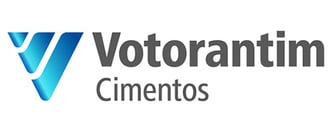 Votorantim Cimentos North America (VCNA) is a leading manufacturer of cement and related construction products in Canada and the USA.

Headquartered in Toronto, Ontario, Canada, VCNA supplies cementation materials to the Great Lakes Region and is also a significant producer of concrete and aggregates to the Ontario market. VCNA has 25 production units in Brazil and 7 in North America and employs 8,000 people. Founded in 1936, the company is part of the Votorantim Group, one of the largest national capital corporations, operating in the sectors of cement, mining and metallurgy, pulp and paper, chemistry, agroindustry and finances.

Ready-mix concrete is a service industry like none other. Each truck is a mobile mixing machine delivering a made-to-order product that is especially time sensitive. Being there on a schedule is
crucial since a pour might require 100 cubic metres of concrete every hour with twenty or thirty skilled workers awaiting its arrival. Service is VCNA's most important product.
The challenge
With trucks on the road across North America, some VCNA-owned and some third party, VCNA had challenges tracking down Proof of Delivery (POD) documents from production units and drivers, including bills of lading and waybills. Further, VCNA has no transparency on which PODs had been received and where they were physically being stored.

Since these physical documents serve as signed proof of delivery, they are key elements in securing payment for outstanding receivables. Additionally, these tickets were required for internal and client auditing purposes. Finding the signed copies was an extremely labour-intensive process given the high volumes of paperwork generated at each VCNA location.
The solution
Octacom was selected by VCNA as their partner for Proof of Delivery & Accounts Receivable Automation, creating significant cost and revenue savings.
Document Imaging Services
VCNA now submits all of its tickets to Octacom by:
Couriering PODs into Octacom's secure Richmond Hill document imaging facility from all over North America to be digitized and indexed;
Submitting by web portal upload, email or mobile upload all electronic tickets or tickets scanned at production units
Odiss™ Document Management Software

VCNA accesses its historical tickets on Odiss™, which has been equipped with: fully searchable tickets; SAP integration to provide a record of all tickets created for upload comparison and access to client tickets from VCNA's client portal; and business intelligence on compliant production units and drivers.
The process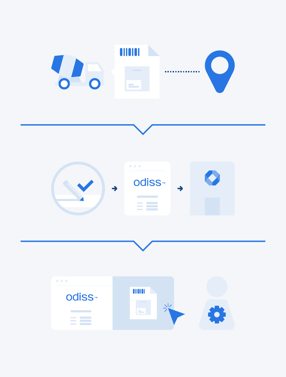 Source: The unsigned POD is prepared at source once an order has been placed in SAP. This POD goes with the delivery vehicle to the delivery location.
Delivery Location: Once the delivery has been made, the recipient signs the physical or digital POD, at which point the driver can upload it directly to Odiss™ or delivers the POD to the production unit to be couriered to Octacom, to then be imaged and indexed.
Document Management: Within Odiss™, all tickets are searchable and accessible by production units, drivers and clients alike, minimizing time spent providing back up for accounts receivable and audits. Links to tickets can also go out with invoices. Additionally, Odiss™ provides a business intelligence dashboard demonstrating tickets outstanding vs. tickets received over time, and drivers/production units that are not compliant.
The results
VCNA has seen great value in Octacom's Document Imaging Services and the Odiss™ platform. VCNA production units, drivers, the finance department and customers alike can quickly and directly access missing or closed PODs, providing high-quality customer service and ensuring collections on accounts receivable. VCNA has seen a substantial return on its investment while increasing redundancy in its core operations and record keeping.
Additional services
Following the rollout of VCNA's proof of delivery solution, Octacom was engaged by VCNA to roll out its AP Automation platform, providing:
Digital Mailbox, imaging and indexing
Workflow automation for invoice approvals
Integration with SAP ERP for payment processing
Octacom's AP Automation platform has saved VCNA a significant amount of the finance department's labour budget, by providing efficient, outsourced and highly automated invoice processing services for about 20,000 digital (e-mail) and physical invoices per month.
---
For more information about this case study, proof of delivery and accounts receivable automation and how a similar approach may be beneficial for your company, please contact us.

Click here to download this case study.